Price

RM910.00

Product SKU
ELJH50
Brand
AO Smith
Size (L x W x H)
38 cm x 38 cm x 71 cm
Availability
Out Of Stock
Description
Highlight
50 Litres Capacity
BEE 5 Star Rating
Glass Coated Element
Anode Rod with Stainless Steel Core
Thermal Cutout
Safety Valve
Horizontal Wall Mounted
SUPC: SDL249347402
50 Litres Capacity
BEE 5 Star Rating
Glass Coated Element
Anode Rod with Stainless Steel Core
Thermal Cutout
Safety Valve
Horizontal Wall Mounted
SUPC: SDL249347402
Overview
AO Smith 50 Litre ELJH-50 Geyser is useful for home as well as commercial use. A promise of warm invigorating bath for a big joint family! AO Smith geyser with a capacity of 50 litre can also be used in homes turned into paying guests accommodating 10 and more people. This water heater has been built with robust technology and ensures better protection. Its large capacity also makes it ideal for shower panels, bath tubs and jacuzzis. Its blue diamond coating is best for hard water.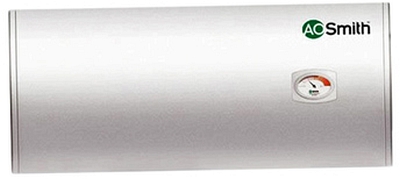 Capacity
An amazing capacity of 50 litre of hot water, you can have a warm bath relaxing in your bathtubs or jacuzzis. Unwind with a hot water bath lazing in your bathtub with a consistent flow of hot water rinsing your body off pain and cramps.
Incoloy Heating Element
In addition to incoloy heating element which is ideal for hard water environment, AO Smith 50 Litre Geyser comes with a glass coated heating element. The glass coating on the heating element prevents scale and sediments to form a layer on the element extending its life and enhancing its performance.
Tank Coating
The inner tank in this water heater has a blue diamond coating, which is a unique feature in itself. The blue diamond coating increases the life of the inner tank. It is the best in the industry as it is stronger and more corrosion-resistant.
Preset Thermal Cut-Out
Like most water heaters, this water heater too has preset thermal cut-out device installed for the safety of the geyser. If the water is heated more than the preset level, then the thermal cut-out stops power supply to the geyser. It also has a safety valve that automatically releases pressure and discharges water in case the pressure overshoots the limit.
Rated Water Pressure
Designed to work perfectly on high rise buildings, AO Smith Geyser has a rated water pressure of 80 MPA.
Power Consumption
This high capacity storage geyser consumes only 2000 W of power. Its operational voltage fluctuates between 220 to 230 ohms. BEE star has rated this geyser as one of the most efficient water heater in the market that offers you ultimate energy saving in your electricity bill.
Other Important Features
One of its other noted feature includes the use of an anode rod. This rod is designed to protect the tank from corrosive elements. It uses a special cathodic action to fight these elements, which results in longer life of the heater.
What's in the box
1*WATER TANK